As part of PUC-Rio's dynamic environment, the Department of Arts & Design offers undergraduate, graduate and continuing education programs in many design areas.
Through research and social activity, the department seeks a scholarly education that stimulates technical development, critical consciousness and social commitment, aiming the students benefit in the ever-changing cultural and economic reality of their careers.
Students have access to well-equipped labs that support experimental and learning activities. From video editing, computer graphics and coding to 3D scanning and printing, our labs provide the means for the development of high-quality presentations, models and prototypes.
A few pics from our campus and facilities.
The Pontifical Catholic University of Rio de Janeiro is the Catholic Church's first private higher education institution in Brazil, founded in 1940 by Cardinal D. Sebastião Leme and Father Leonel Franca S.J.
The referential starting-point of PUC-Rio is the complete development of the individual from two main perspectives: the philosophical and the theological. It is also a doctoral research institution that focuses primarily on the development of academic and scientific knowledge.
The University in numbers
8929
continuing education
416
full-time researchers
Design Programs
Undergraduate
The Undergraduate program offers majors in Product Design, Fashion Design, Visual Communication, and Digital Media. We focus on creativity and innovation while exploring the rich and diverse knowledge available in our university environment.

Product Design
Our Product Design course focuses on the creation of three-dimensional products. Our teaching method involves research and interaction with diverse groups and real-world contexts where students and users can develop projects with social, environmental and economic relevance.

Visual Communication
The Visual Communication major covers aspects of graphic design, where text and image are the main elements. With the assistance of a large team of professionals, our students are constantly encouraged to engage in innovative conceptual projects exploring various formats of online and printed support output.
Fashion Design
In our Fashion Design program, students have a rich environment that yields originality and innovation. Our classes cover the breadth of fashion in close contact with market experts. Students have access to well-equipped labs and can undertake interdisciplinary projects, benefiting from our network of design fields.

Digital Media
In the Digital Media program, students are exposed to different aspects of digital design areas such as games, animation, digital art and webdesign. While working with physical and logical interfaces, students learn creative and technical concepts through hands-on projects, aiming the future of the digital media industry.
Portfolio
Check out some of our student's work.
PPG Design
Design Graduate Program
Since its foundation in 1994, our Master Design Program has been responsible for the consolidation of design research in Brazil. It is the first of its kind in Latin America and has had more than 350 research dissertations approved. Following its success, the Doctoral Design Program was founded in 2003 and has had more than 130 theses approved up-to-date.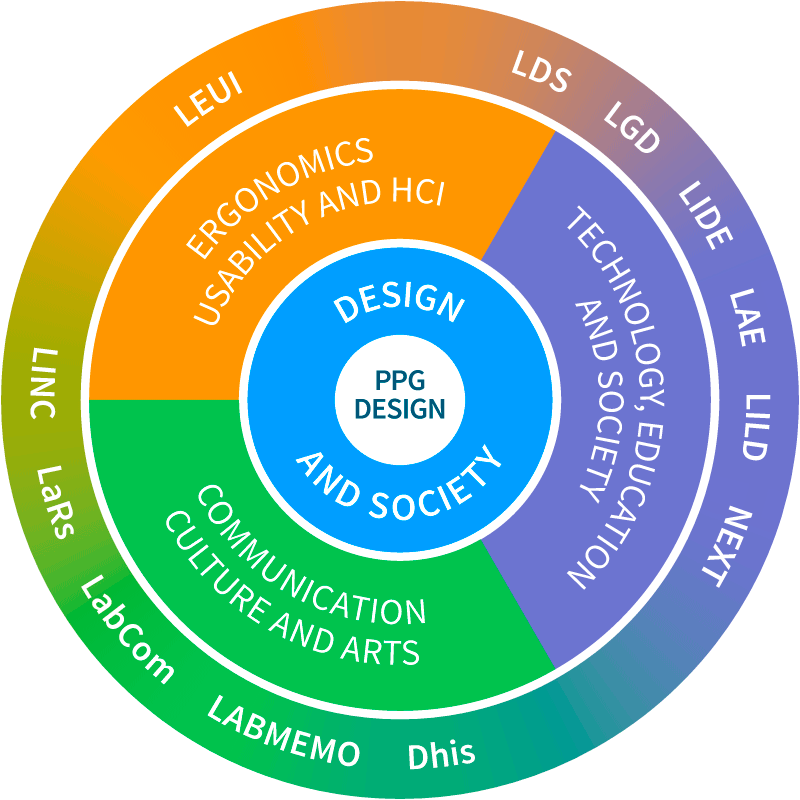 Design and Society
The Design and Society concentration area approaches distinct aspects of design and its interface with technology, arts and social sciences.
The primary goal is to highlight design's impact on culture, society, and the environment, investigating its relationship with users and productive processes.
Research Lines
Communication, Culture and Arts
Technology, Education and Society
Ergonomics, Usability and HCI
Research Labs
The PPG Design Graduate Program is supported by 15 research labs where senior academics and students undertake research projects in many investigation areas.
The PUC-Rio Design Week is an annual event that promotes student works through open exhibitions and presentations, offering direct contact between the public and our academic production.
Additionally, we offer specialization courses in areas such as Animation, Interior Design, Jewelry, Ergodesign and Interfaces, Ergonomics and Sustainability, as well as short courses in Audiovisual, Computer Graphics, Product Design, Design Thinking, Pattern Design and Fashion amongst others.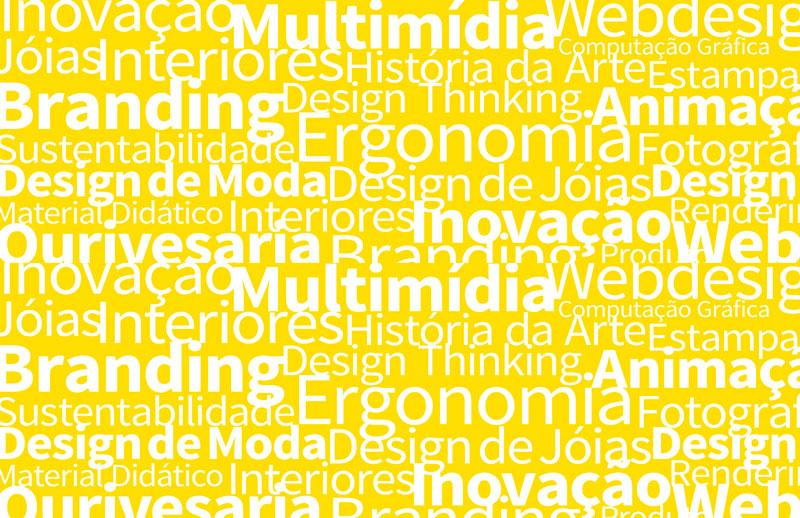 Head of Department
Profª. Jackeline Lima Farbiarz
Tel: (+55 21) 3527-1600
artdsg-d@puc-rio.br
Undergraduate Program
Profª. Roberta Portas
Tel: (+55 21) 3527-1595
artdsg-g@puc-rio.br
PPG Design
Graduate Program
Profª. Luiz Novaes
Tel: (+55 21) 3527-1596
ppgdesign@puc-rio.br
Street address
PUC-Rio | Departamento de Artes & Design
Vila dos Diretórios, Eng. Paulo Cunha Building
Rua Marquês de São Vicente, 225 Gávea
22451-900 – Rio de Janeiro – RJ – Brasil
Entrance and parking via PUC Terminal